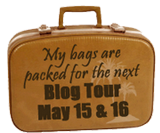 April Showers bring May flowers, but if you join me on May 15th and 16th, you'll see more than lovely blooms! Pack your bags 'cause you're going on a trip! Take a tour of 20 beautiful blogs, and you will see creations that will amaze and delight you. But it's only a two-day trip! It begins at 8:00 a.m. EDT on May 15th and ends May 16th at midnight! Bookmark this blog, and you will be able to hop on the bus to begin the journey!
Did you know there are three tours running simultaneously over these two days? After you finish this tour, would you like an opportunity to see more beautiful designs? Since you have only 48 hours to visit these blogs, you might want to take advantage of this special treat. When you've completed this tour,
click here
to get the links to the first stop on each of the other tours. Then you can start your ride again with a whole new set of designs.
Have fun!